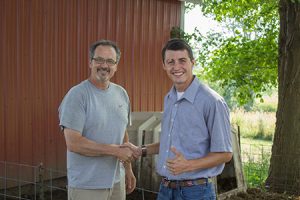 INFRASTRUCTURE
Michigan's roads and infrastructure needs should be a continued focus of legislators in Lansing. Improved infrastructure will, without a doubt, make Michigan a more attractive state for business investment, and a better place to live. I support continued investments in our roads, without asking taxpayers for more money. I also support innovation and reviewing the most efficient way for the best materials to be used for road construction.
SKILLED TRADES
Michigan also needs to concentrate on boosting the skilled trades. The state needs to use its available resources to invest in skilled trades opportunities. We need to tailor curriculum to provide an education path for students interested in these types of careers.
AUTO INSURANCE WATCHDOG
Michigan's no-fault auto insurance system was finally reformed after decades of failure that lead to Michigan drivers paying the highest auto insurance rates in the nation. The reforms focused on cutting down fraud and giving drivers more choices that drive down costs. I will support holding hospitals accountable if they don't abide by the fee schedule put in place and continue to price gouge, along with insurance companies who fail to abide by the rate rollbacks for personal injury protection (PIP), which would guarantee savings for Michigan drivers.
OPIOID & PRESCRIPTION DRUG ABUSE
Michigan has a serious issue with prescription drug abuse, which is evolving into heroin use in our local communities. This epidemic has swept the nation, including our state, and must be fought at every level. Health professionals, law enforcement, and patients need to work together to stop this epidemic. Nearly everyone has been affected by a family member or friend addicted to prescriptions or other forms of drugs. I will work on policies that tackle this issue head on, helping to stop this vicious cycle of addiction that is stealing the lives and futures of so many families.
AGRICULTURE & FARMING
Agriculture in Montcalm and Gratiot Counties is the foundation of our local economy. Michigan must support farmers, whether by building better infrastructure for farm vehicles or protecting farms from unnecessary over-regulation. I will be a supporter of educating the public about the importance of Michigan's agricultural industry and protecting our proud legacy of farming in mid-Michigan.
SUPPORT OF LAW ENFORCEMENT
Residents in Montcalm and Gratiot Counties love and respect our local law enforcement. Police officers and firefighters are extremely important to keeping families and communities safe. However, Governor Whitmer has cut funding for local road patrol, using rural areas as political pawns and leaving our communities vulnerable.
I have respect and gratitude for those officers and first responders who put their lives on the line. I will support law enforcement at the legislative level, guaranteeing they have adequate resources to successfully carry out their duties. These men and women deserve our support, as they make daily sacrifices to maintain law and order and ensure our safety.
PRO-LIFE
I will work to protect children, both born and unborn, as a state representative. I strongly believe in the power of the grassroots Pro-Life movement. Abortion numbers in Michigan are continuing to drop thanks to the work of Pro-Life activists and legislators. Let's continue that leadership!
SECOND AMENDMENT RIGHTS
Owning a firearm is your constitutional right. Residents in Montcalm and Gratiot Counties respect their firearms and accept the responsibilities of gun ownership. I'll fight for their constitutional right to carry and protect and provide for their families as you see fit. I will fight any attempts by our government to disarm law-abiding citizens.
SUPPORT VETERANS
Veterans sacrificed more than anyone to keep our country safe. We must be a state that helps veterans succeed after the return to their communities. I support improving the veterans' health-care facilities, along with ensuring that veterans know where to receive financial guidance and mental health care, as well as all services offered to our vets.