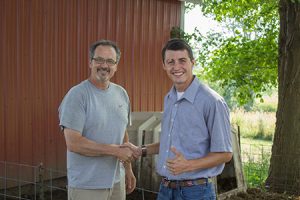 In Lansing, Pat serves as Vice-Chair of the important Oversight Committee. In this position, he has made holding the Whitmer Administration and Lansing Bureaucrats accountable a top priority. He's taken both to task for the failed UIA department, the nursing home COVID death scandal, Secretary of State appointment debacle, and the irresponsible way the last election was run by SOS Benson. He's helped lead the way in stopping Whitmer's unconstitutional mask mandates, vaccine mandates, and government-imposed shutdowns.
Pat knows it's impossible to overstate the damage that has been done to the lives of the people he represents by Whitmer, Benson, Nessel, and Joe Biden's policies. As we continue to review these decisions, without the cloud of fear or threats to our livelihoods, it is even more apparent how out of touch with reality most of these public officials are. If re-elected, he will continue to fight these types of policies and help the public pick up the pieces and get back to normal top priorities. In addition to his work as Vice-Chair of the Oversight Committee, Outman serves on the Tax Policy, Energy, and Regulatory Reform Committees. Through these influential committee assignments, Outman has fought to reduce regulations, lower taxes, and lower the cost of energy for Michigan families. These efforts are as important as ever given the cost of inflation, shortages of labor, and shortages of goods. His efforts to help get the government out of the way and get our communities back to normal are just getting started. That's why he's seeking to serve a second term as your State Representative. 
Pat's Plan includes:
FIGHTING INFLATION
Inflation is a tax on the lower and middle class. The irresponsible way that the federal government handed out money, coupled with supply chain disruptions, caused the effect of too many dollars chasing too few goods. We must put safeguards in federal spending to prevent this from occurring in the future. 
Additionally, the Biden and Whitmer Administration's war on fossil fuels has exacerbated inflation even more. That's because everything touches oil, whether it's through production or transportation. With that being the case,  we will not see prices of everyday goods go down until we once again become energy independent and eliminate the whims of international disruptions. 
To combat these issues, Pat will prioritize supply chain weaknesses in Michigan as well as protect major energy transports, such as Line 5. 
TAX REFORM
As a member of the Tax Policy committee Pat has fought to lower taxes and will continue to do so. Michigan will not reach its full economic potential until we reduce taxes, encouraging more people and businesses to migrate to Michigan for opportunities.  
Pat fundamentally believes that people, not the government, are the best stewards of their hard-earned tax dollars. We must always look at ways to allow Michigan residents to keep more of their income, and it's even more important now as costs continue to rise. 
That's why Pat sponsored a bill to eliminate income taxes on all retirees to allow our seniors to keep more of their money, especially those on a fixed income. He will also continue to support broader reductions of the state income tax to all workers in Michigan like the ones that the legislature previously sent to the governor, and will continue to do so until the state personal income tax is completely eliminated. 
However, there's more work to be done beyond income tax. We must address property taxes  as well, and Pat will continue to push for reform to provide relief for property owners in Michigan. 
ENSURING A RELIABLE ENERGY FUTURE
Michigan's energy future hangs in the balance. With the closing of baseload power plants, such as coal and nuclear, Michigan is getting far too dependent on renewable energy sources. Pat will advocate for good energy policies that include a diverse portfolio. That means expanding nuclear as well as looking at other alternative energy sources. 
Additionally, we need to prioritize energy infrastructure to improve Michigan's electric grid and expand transmission to prepare for the future. 
GOVERNMENT OVERSIGHT
Over the last couple of years, government overreach has run rampant in Michigan's Executive Branch of government. Pat has made it his mission in the legislature to eliminate overreach and to hold government officials accountable for such action. As Vice-Chairman of the House Oversight Committee, Pat will continue that mission and make sure that our system of government has the proper checks and balances to ensure that it truly works for the people and does not infringe on our constitutional rights. He will also continue to ensure that government departments are operating efficiently and not wasting tax dollars.  
ELECTION INTEGRITY 
The 2020 election was a chaotic disaster. Countless election laws and processes were violated, leading many people to question the integrity of our election system. That should never be the case. Every Michigan voter should have confidence that our election process is fair, free and safe.  Over the past two years, Pat has voted to protect our elections, keep them local, and stop potential fraud.
He has voted to make Voter ID mandatory, stop outside groups from accessing the  qualified voter file,  clean up the voter file, prevent third-party money from being used to conduct elections, stop unsolicited absentee voter applications, and more.  To review my record on putting trust back into our elections visit,: https://securemielections.com
INFRASTRUCTURE
Michigan's roads and infrastructure needs should be a continued focus of legislators in Lansing. Improved infrastructure will, without a doubt, make Michigan a more attractive state for business investment, and a better place to live. Pat will support continued investments in our roads, without asking taxpayers for more money. He will also support innovation and review the most efficient way for the best materials to be used for road construction.
SKILLED TRADES
Michigan also needs to concentrate on boosting skilled trades. The state needs to use its available resources to invest in skilled trades opportunities. We need to tailor our curriculum to provide an education path for students interested in these types of careers.
AGRICULTURE & FARMING
Agriculture in Montcalm, Ionia and Kent is the foundation of our local economy. Michigan must support farmers, whether by building better infrastructure for farm vehicles or protecting farms from unnecessary over-regulation. I will be a supporter of educating the public about the importance of Michigan's agricultural industry and protecting our proud legacy of farming in mid-Michigan.
SUPPORT OF LAW ENFORCEMENT
Residents in Montcalm, Ionia and Kent Counties love and respect our local law enforcement. Police officers and firefighters are extremely important to keeping families and communities safe. However, Governor Whitmer has cut funding for local road patrol, using rural areas as political pawns and leaving our communities vulnerable.
Pat has respect and gratitude for those officers and first responders who put their lives on the line. He will continue to support law enforcement at the legislative level, guaranteeing they have adequate resources to successfully carry out their duties. These men and women deserve our support, as they make daily sacrifices to maintain law and order and ensure our safety. 
PRO-LIFE
Pat will work to protect children, both born and unborn, as a state representative. He strongly believes in the power of the grassroots Pro-Life movement. Abortion numbers in Michigan are continuing to drop thanks to the work of Pro-Life activists and legislators. Let's continue that leadership!
SECOND AMENDMENT RIGHTS
Owning a firearm is your constitutional right. Residents in Montcalm, Ionia, and Kent Counties respect their firearms and accept the responsibilities of gun ownership. Pat will  fight for their constitutional right to carry and protect and provide for their families as you see fit. I will fight any attempts by our government to disarm law-abiding citizens.
SUPPORT VETERANS
Veterans sacrificed more than anyone to keep our country safe. We must be a state that helps veterans succeed after the return to their communities. Pat supports improving the veterans' health-care facilities, along with ensuring that veterans know where to receive financial guidance and mental health care, as well as all services offered to our vets.